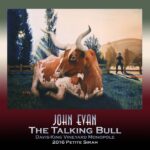 Sourced from the tiny Davis-King Monopole vineyard in Livermore, this head-pruned, 1-acre vineyard produces just a few barrels every year of super-concentrated Petite Sirah.
By joining the allocation list we automatically reserve a case for you every year and you agree to purchase it. Allocation is not a club but is like an automatic, annual futures purchase on this extremely limited wine.
The Talking Bull is typically released in November after about 3 years of barrel aging. We will notify you in advance when the allocation is to be released and will charge your allocation a few days before the release. The Allocation list is currently limited to 90 cases.
You may remove yourself from the allocation list at any time but if you then choose to rejoin you may be added to bottom of the list.
Cancellations must be made in writing by emailing club@bigwhitehouse.com.
Waitlist
Our allocation is currently full. To get added to the waitlist email please fill out the Allocation Form and email it to club@bigwhitehouse.com.
If a spot opens up we will notify you before charging your card.